Leveraging Your PACS for a Safe Return to Office
By Northland Controls, Aug 16, 2021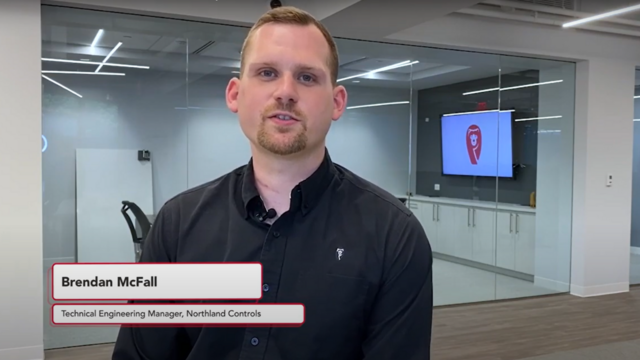 While the pandemic may seem far from over, companies worldwide are grappling with the fact that the "new normal" is here to stay.
Whether full-time or following a hybrid schedule, a return to the office is inevitable. Increased collaboration, relationship building, and preservation of company culture are just a few reasons why leaders are pushing for a return. However, companies will have a fine line to walk when it comes to prioritizing the health and safety of their employees as their doors once again open.
While each department pulls together their piece of the reoccupation puzzle, security teams can leverage physical access control and video management systems to make smarter, more informed decisions when planning their employees' return. Here are a few ways your systems can lend a helping hand:
Pre-Screening Employees
Making sure that your employees are healthy before they enter the building is a top priority for companies. One tool that is leading the charge is the Detrios Facility Access Screening Tool (FAST). By implementing pre-screening measures, either through a security representative or a designated station, this software integration automatically disables or extends badge access by enforcing required screening upon entrance to facilities. Companies using this tool typically allow access anywhere between 8-24 hours, forcing employees to pre-screen once again before returning to the building. A fully customizable back end and compatibility with LenelS2 OnGuard, C-CURE 9000, S2 Netbox, and RS2 AccessIt! means companies can implement this technology to meet their own unique goals as they switch back to in-person.
Running Automated Reports
Your access control system holds a wealth of knowledge that can support business operations and can help manage employees' return. While restrictions continue to change as the pandemic roars on, an automated report can help maintain compliance with local regulations. For example, if your state or county has placed limitations on a number of people allowed in a specific space, an automated report can help sustain that threshold. An alarm can be configured to populate a notification upon reaching different occupancy levels, for example within 10% of maximum capacity. Once those thresholds are met, teams will receive a notification for further action. Based on policies, this could mean restricting access for future guests or sending out a notification to those not currently in the building to alert them of the limited space. In some instances, this could further support employee productivity by eliminating the guesswork of traveling into the office when there is insufficient space available.
Contact Tracing
Companies can use the robust data produced by their access control systems to track and trace an employee's movement while in the office. This type of contact tracing can be a helpful tool in making sure those in the office remain safe and healthy. For example, if an employee tests positive for COVID-19, access control data can pinpoint their movement and notify those who were in "close contact" with the employee. As employees are asked to return to the office, this type of measure can instill confidence in the steps being taken to ensure employee health and safety.
Video Analytics
Getting employees back into the office is not the only goal. Once there, companies are also tasked with keeping them safe. Throughout the pandemic, several companies found new uses for their video analytic platforms. By pivoting technology already developed, such as spatial awareness, crowd-counting, and facial recognition, security professionals found new applications to enhance the safety of their employees during a time of great uncertainty. By adding analytics to a video management system, companies can better enforce COVID-19 regulations such as wearing a mask or remaining socially distanced while in the workplace. This type of software, especially the platforms powered by artificial intelligence, brings about a heightened level of awareness and safety during the pandemic.
Northland Controls takes pride in solving our clients' toughest challenges. If you need help creating a plan to bring employees and guests back into the office safely, let us help by emailing info@northlandcontrols.com.