Ethiopia Tech Challenge Day 7: What Happens in Lalibela, Stays in Lalibela: Our Final Adventures in Ethiopia
Oct 24, 2017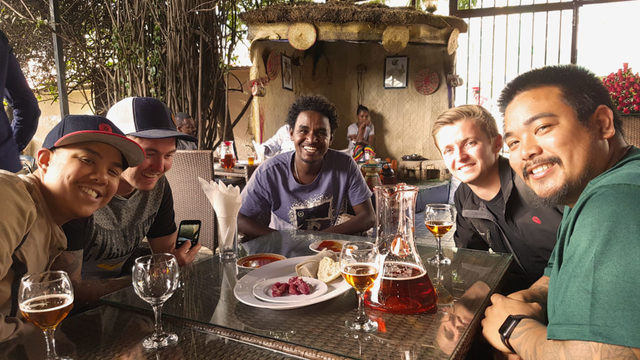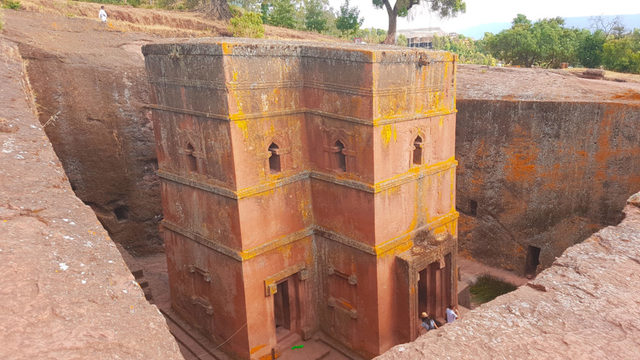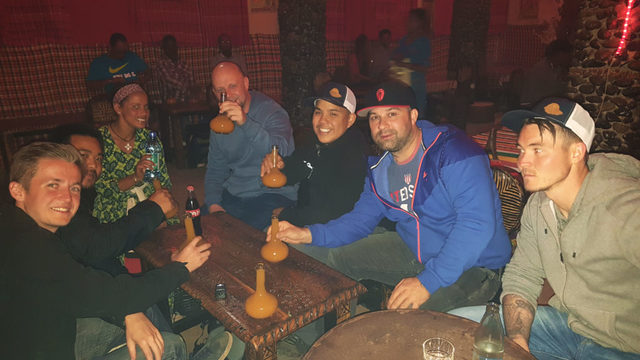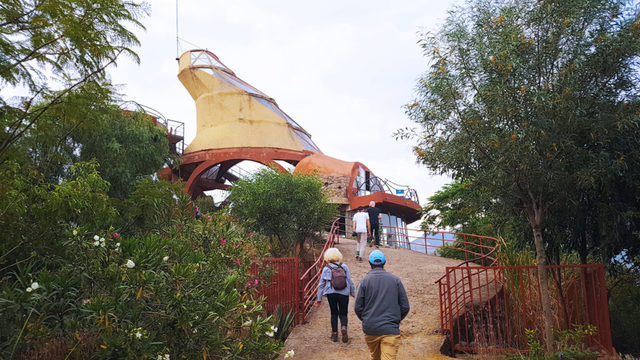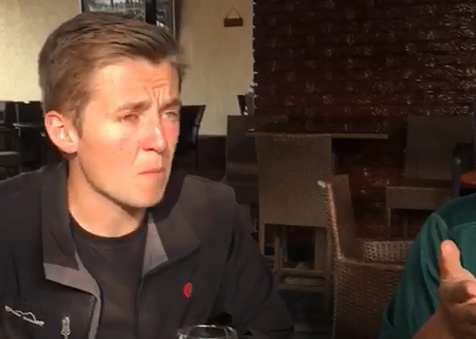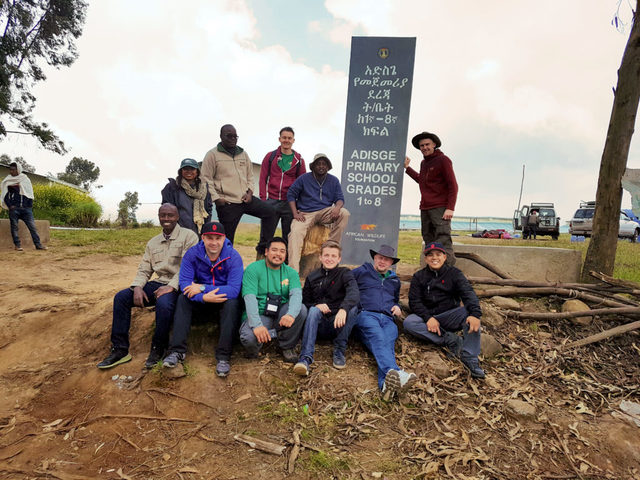 Day 7 | Thursday, 19 October
5AM and the team started to rise, dragging their bags up the large hill from the rooms to the main reception area where we were meeting for tea and coffee. LimaLimo had kindly made us avocado sandwiches for the road, and before long we were on the way to Gondar to catch another flight to Lalibela. The journey was particularly interesting, much like every other transfer we have had. Yet again more donkeys left, right and center, locals walking down the middle of the road carrying loads of wood for their fires, pot holes that resembled mine shafts and variations between gravel track, tarmac and mud for the road. Not to mention the odd cow chilling out among the cars and tuk-tuk style taxis beeping their horns, swerving all over the place. We were wondering whether we would make it in one piece, especially as we neared the airport and both the car and animal traffic became heavier…
Finally, and thankfully, we arrived and started to make our way through security. We think both Gondar and Lalibela airports have security and bag checks only out of principle, rather than to actually identify any issues. To put things in perspective, once we cleared security, we walked out to the plane and could see locals hanging their laundry at the side of the runway, and others just relaxing in the long grass watching the planes go by – not something you'd expect to see back home!
Once in Lalibela, we collected our bags from the trolleys on the back of the tractor (they don't have a baggage carousel) and stepped outside to meet another Northland Bear waiting for us. This journey was only 45 minutes to the Tukul Village Hotel, where we dropped off our bags and took a walk down the road to a local restaurant for a spot of lunch. To the teams' surprise, this restaurant offered burgers, lasagne, steak – you name it! For a moment we all felt very at home. That being said, one of the US Team decided to ask the waiter if the burgers were like American burgers, to which he received a laugh in response! The food was pretty good and just what we needed after our avocado sandwich breakfast.
Heading back towards Tukul village to be picked up for our Lalibela tour, we were surprise-chaperoned by a group of locals. Each local paired up with one of our team and started practicing their English. Our guide had previously mentioned to us that we were in a touristic area, and that this was a common occurrence. He advised that we should try to ignore this, as it is often children who decide to leave school to get money or similar from tourists but should instead be getting an education. We followed his advice, and soon were back at Tukul Village waiting for our tour guide.
At 2PM we were taken to see Lalibela. Lalibella is famous for its monolithic rock-cut churches and is a center for pilgrimage. The design of Lalibela is widely accepted to be a symbolic representation of Jerusalem, yet in terms of architecture one could liken it more to Petra, in Jordan. It was pretty amazing how these churches were carved out of a single piece of rock 900 years ago, but are standing strong and still used today. Our tour guide was very knowledgeable; however, most of the team was intrigued more so by the architecture and design, rather than the religious aspect. After 7 churches, with The Church of St. George being the highlight of the trip, we were about done and headed back to the hotel for some rest before the evening entertainment wrapping up our visit to Ethiopia.
Our evening started with some food at Ben Abeba restaurant. If asked to, the entire team would find it difficult to describe this restaurant; however, we all agree the word "Flintstones" represented the construction, and "Doctor Who's Tardis" represented the toilets. The restaurant was coincidentally run by a Scottish lady- hence the name Ben Abeba: 'Ben' means mountain in Scottish, and 'Abeba' means flower in Amharic. Around 12 years ago the owner had come to Ethiopia to support a friend who was starting up a school in the country, and once established into the government system she supported another local who had the dream of running his own restaurant. This restaurant now sits proudly on a small peak with 360-degree views over the Ethiopian lowlands.
We were once again extremely pleased with the choice of food. Both British and American dishes were heavily featured, except with an Ethiopian twist. It was a great way to spend the start of our final night in the country!
We say the start, as we don't think anyone quite expected the next part of the evening. We headed over to Torpedo Tej. 'Tej' is Amharic for honey wine- a local specialty! We entered this restaurant, which had frankincense burning, drums beating, live singing and dancing and Masinqo's playing (a one-string fiddle-like Ethiopian instrument).
We grabbed a table and immediately ordered a tray full of honey wine to everyone's delight- or not… It was an interesting taste and perhaps one that grows on you, but worth it for the experience. We think Josh might have even enjoyed it! Soon after, the dancers started to come over to our table to try and coerce us to get up and dance. Ayman, starting to really take the lead at this point in our journey, was right up there having a dance off with a local who was completely crazy, and oddly looked very similar to our driver. Ayman really set a high bar, but soon after Andrew and Christian also got up, taking turns to show us all how it's done! (For those keeping score, that was 3-0 to the Yanks- poor UK!) Therefore, James decided to get up to try and get the UK team going – a little inspiration and all that and to fight back in this competition. Thankfully, the local dancer joined in this effort and tried to get everyone else up to dance. Soon enough, both Dave and Josh were up busting some moves. Although the final score was technically 3-3, the UK team wasn't that stylish and the US definitely won on dance moves. Andrew and Aleh couldn't be persuaded; however, Andrew did have a go on the Masinqo! His playing unfortunately didn't come close to the US teams' dancing though, so despite best efforts the UK team definitely lost this one! We headed back to the hotel for a reasonable sleep before our morning departure from Lalibela airport to Addis Ababa to catch our flights home.
There was 1 final surprise for the team before the flight back home: a food tour.
After a little confusion about the starting time of the tour, we split up with some of the group opting to have massages at the hotel, and the remaining team heading out for some local food and souvenir shopping. The food was definitely a surprise. We sat down in a restaurant and started looking around at other guests' plates. At this point we were all a little confused, as everyone seemed to have chunks of completely raw beef on their plates. We are not talking carpaccio here, but instead what looked like large pieces of meat that had just been cut off a cow and plopped on a plate. Before we knew it, we had a drink called Torpedo in front of us: a bottle of red wine, mixed with a bottle of beer and sprite, and then came a plate full of the aforementioned raw beef. Eating completely raw beef like this isn't something we would normally consider eating in the UK or the US, let alone in Ethiopia, but we felt like when in Addis, do as locals do. James was first up, taking a piece, dipping it in the super spicy concoction brought out with the food, and proceeding to eat it. It was pretty much how you'd expect it to be: raw, chewy and spicy. The worst part was the knowledge that it was uncooked. In the kitchen behind us you could even see the carcasses hanging up waiting to have chunks cut off them. Andrew and Christian were next up, taking the bull by the horns (excuse the pun) and chewing through it in style. Josh followed suit to bring the scores back to 2-2, and shortly after vanished to the bathrooms… we wonder why. Andrew, then exclaimed, "This is just like the raw tuna we have back at home!" and took another piece much to James' annoyance. He simply couldn't let the US team get another one up on the UK- especially after the dance off the night before, so he tucked in and took another piece before wrapping up the meal with some cooked meat (finally) and onions. What an experience! Still not sure whether Josh has recovered from that moment…
That just about brings us to the end of the trip, as we then headed back to the hotel via the market for souvenirs, and grabbed the rest of the team. We popped down the road to a local bar for a beer to send us off, and washed down the remnants of the raw meat. To our surprise the "tour guides" from our first day in Addis were also in the bar – what are the chances! We thanked them once more by buying them a beer and wishing them luck, before heading back to catch our transfer to the airport.
At this stage everyone was about ready to go home and get back to normality. At the same time though, we were all somewhat in awe of how different life is in Ethiopia, particularly in remote areas such as Adisge, where we installed the solar panels. It really puts things in perspective and makes you realize how lucky we are to have what we have and do what we do. So here's to the future of our partnership with the African Wildlife Foundation, and a big thanks to their entire team across the globe: Shif and his team in Ethiopia, SimienTrek and LimaLimo Lodge; Dereje and Henok from Lydetco Solar; and GRID alternatives. Without all of these teams we couldn't have achieved what we did, and it has been fantastic to work with such amazing groups of people. We thoroughly look forward to working together in the future, and continuing to make the world a better, brighter place.