Ethiopia Tech Challenge Day 0: Welcome to Adisge!
Oct 17, 2017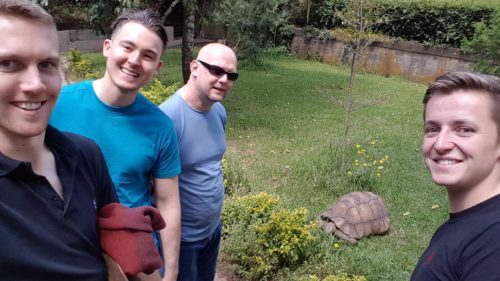 Hello from the Simien Mountain range in northern Ethiopia!
We have no internet, but can text out a quick message. Great news! We are at the school in Adisge, Ethiopia. We got the administration block, classrooms and kitchen lights and sockets wired where needed. We all just had our tea in the classroom with the lights on and tomorrow we will continue to get the teachers' houses powered up. Things are awesome. Everyone is buzzing with the feeling of bringing lights to the community!! The African Wildlife Foundation (AWF) are very happy and we can't wait to show them the lights when they are back on site tomorrow. Shame about the torrential rain and thunderstorms though, but all part of the experience!! Seen some Geladas already and having a great time.
– Challengers
Learn more about the school we'll be helping on this challenge: Northland Adisge Primary School Ethiopia Project