Uganda & Rwanda Challenge: The Preview Trip
Feb 04, 2014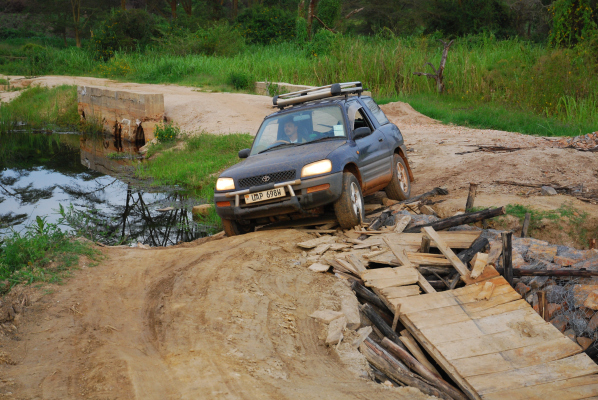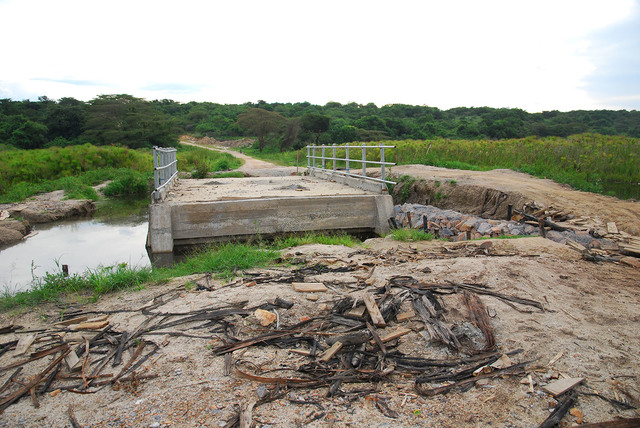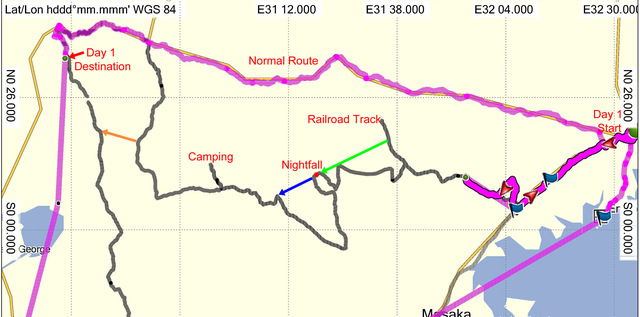 In preparation for the Northland Challenge 2014, we wanted to ensure our service project was not only feasible, but valuable to the local community. In addition, as we were organizing the transportation ourselves and planning the routes, we thought it would be a good idea to see what this involved.
Prior to leaving, I sat down with Paschael, a Ugandan friend who lives in the DC area, and his brother-in-law who was visiting from Uganda. We had a great time talking about places to include in the challenge and what we were trying to accomplish. When I pointed out our intended route, Kaddu the visiting Ugandan, whom I can now refer to as a good friend, laughed and said that is not the route he would choose. He would stick to the main road, which would be enough of a challenge in and of itself. If you click on the below image that would be the purple highlight on the map from "Day 1 Start" to "Day 1 Destination."
Preview Trip Route - Day 1
Of course, I was having none of that. I figured we could cover the 300 kms on secondary roads in 6 hours, no problem. As this posting is only intended to give a flavor of things to come, I will give a quick synopsis of our journey to our intended Day 1 destination. We started driving at about 10 am. We missed the turning point where I show the green arrow, as we don't think it exists…although it was clearly shown on our map! So, we decided to head up and cut over on what was a clear and dark line…that turned out to be an abandoned railroad track. After debating driving on the tracks for a while, we decided to turn back. It was still early on and we were making good time…notice how close we are to the purple highlighted main road, and our refusal to head in that direction…in spite of all the locals we talked to insisting that we should.
So we plowed on. We even crossed over where a bridge was washed out…someone had helpfully piled up a lot of debris.Uganda 2013 Drive to Katonga 15 At this point, we are starting to get a bit nervous. The photo in the banner at the top of this blog is an actual picture I took at sunset, nowhere close to our destination. Now notice where the green arrow hits the blue arrow. Well, we were looking for the "blue arrow" road in the dark…obviously you can see from our GPS track that we missed it and looped back, and added at least 2 hours to our already long "6-hour trip".
Remember, we are heading for the Day 1 Destination, had been driving for 10 hours, and looked like we were only half way there, and the sun had set. And when the sun sets, there are no street lights, no markings on the dirt road, and certainly no signage. As you can guess, from the image where it says "camping", we didn't make it to our destination. We pitched our tents at midnight in a national wildlife reserve. We were the only ones there. We dined on some biscuits we had bought along the way.
Uganda 2013 Drive to Katonga 25
The next morning, we went on a hike as we were in a wildlife reserve after all, and then set out by 10 am. We were doing great. And by the time we got to where the orange arrow is, we figured we were only an hour away. An hour later, we see a roadside cafe, and are excited as we had only eaten biscuits for the prior 30 hours and knew we had made it. Of course, the first thing they tell us is the kitchen is closed as it is 2 pm. Sitting at an outdoor table, we go over the map with some locals as we figure we are darned close, but things are just not quite right.
Yep. We missed the left hand turn for the orange arrow, and were actually on the main road. We had no clue how far off we were. We arrived at our Day 1 destination around 4 pm on Day 2!
When I got back to DC and told Paschael and Kaddu the full story, they laughed hard and long, banging on the table. They couldn't believe the absurdity of our journey. Needless to say, we figured out some things we won't be doing.
Now, imagine the actual challenge with 15 vehicles and 30 participants.
The Teams:
(1) A Fish Called Rwanda
James Choi & Terry Browne
(2) Haraka
Hartmut Kraft & Sebastian Ross
(3) TOTO
Echo Guo & Drew Greenslate
(4) Shaka Zulu
Eric Van Muijen & George Gemmill
(5) Northern Lights
Cesar Bonilla & Amanda Hill
(6) U-Gan-Da Wrong Way
Jim Conley & Ed Wears
(7) Photon Cultivators
Josh Akre & Shad McPheters
(8) Hakuna Matata
André Fiset & Joseph Liew
(9) KP 4 Rav
Kirsten Klokis & Paul Pacitto
(10) Help Help Me Rwanda
Guy Morgante & Martha Entwistle
(11) KC Enginerds
James Kendall & Sherwin Carr
(12) Solar Bear
Rob Kay & Charles Duncan
(13) Poli Poli 2014
Tim Nestor & Vivian Hodges
(14) Mazunga Express
Pierre Trapanese