Uganda & Rwanda Challenge: Day 6
Oct 29, 2014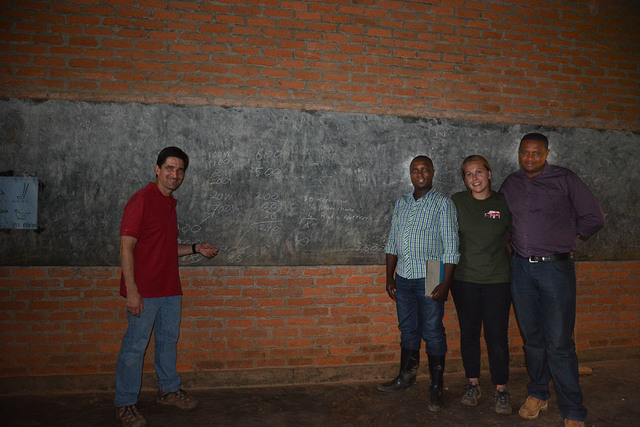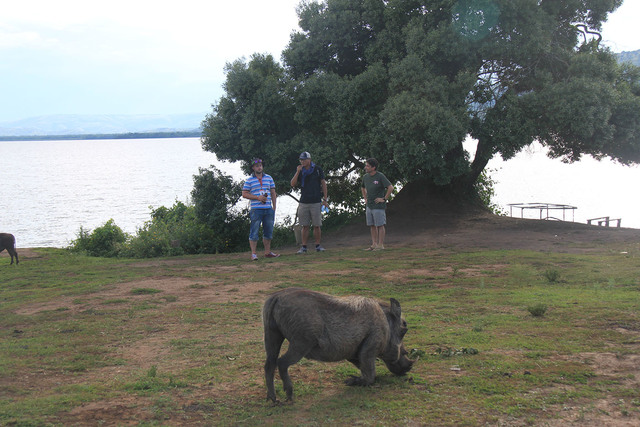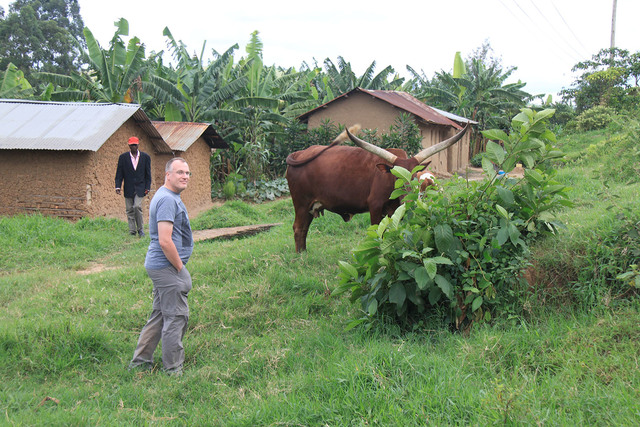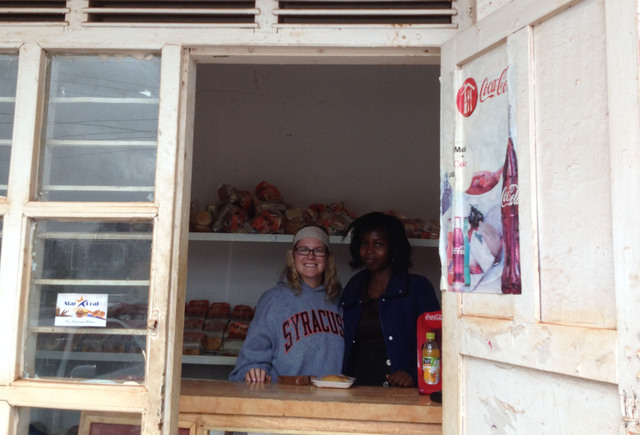 23 October 2014, Thursday | Ruhengeri, Rwanda to Lake Mburo National Park, Uganda, approx 305 kilometers. 9 hours, including border crossing.
Although the teams get going early as we have a long road, border crossing and need to set up camp at the other end, Guy, Martha and I stay behind. Guy and Martha are helping with logistics while I go with Francois and Gregoire to visit the office/store of Dassy Electric. They are still in awe of the fact we were able to get the panels installed and the lights on yesterday. In addition, Jim and I were working with Francois to put together a cash flow analysis for hundred homes Dassy will be installing thanks to our fundraising. We want to make sure these homes will form the foundation for a "utility" revenue/profit stream that will fund the installation of another 600 homes over the coming years. We estimated there are 1,000 homes in the Janja vicinity. 100 of which have enough resources to pay for their own 70 or 100 Watt solar array, and another 200 which would be able to afford a 20 to 50 Watt array on their own. Thus leaving a total of 700 that would be too poor afford any system outright. Given our 100 "starter" solar homes, we want to ensure Dassy has a plan to ensure power to the remaining 600 homes. We think we have a plan and will be working with Francois to get there.
Meanwhile, Guy is at the bank trying to change a large amount of money for me so that we can pay the hotel. For some mysterious reasons it takes him over an hour of waiting in line. He finally shows up with a paper bag stuffed with local currency. We are in too much of a hurry to get going to see the humor in all of this. Great thing I discover after a short bit of time is that Guy is a great driver under these conditions, and we are not too far behind schedule. I was suspicious as the only stories I had heard till now is how they got lost on the first day in spite of excellent directions from locals.
We breeze through the border crossing, take on some windy roads through the mountains, and hit the flatlands. The roads are greatly improved since I was here last, but we finally hit what the teams call the ribbon road. There is a narrow ribbon of pavement in the middle of the road that takes up one third of the road, the edges are thrashed and bound on each side by another third of severely potholed dirt. Of course, the trick is to drive off the ribbon when confronted by an oncoming truck, negotiate the potholes, bicycles, pedestrians and motorcycles, before popping back on the ribbon. When we see Paul later in the day, he is a bit hysterical from the experience of Kirsten passing slow moving cars on the ribbon road. They survived, but just. However, as they seem to have a faster car, they were also playing with the other teams. Zipping by them, only to pull over somewhere, and then zip by them again over and over again. A bit of taunting.
A bit of revenge given that Terry and Rob had unplugged a couple of spark plugs on Kirsten and Paul's car at the border. Terry was baffled that they would leave their car unlocked and figured he would play with them. Paul was wondering why Rob shouted "good luck" when Rob pulled away from the border. That got Paul a bit nervous, and had him muttering that they wouldn't have done anything to the car. A bit unsportsmanlike. But as they got going, the car sounded off. Paul was a bit frantic and pulled over to look under the bonnet (hood). After a few moments of searching, he saw the loose cables and reattached them. They were back on the road to resume their taunting of the other teams.
Otherwise, the day was fairly uneventful with the exception of a few flats and Shad and Josh completely breaking off their already broken muffler. Ali and Shaban our team of mechanics in the chase car had developed a fuel leak. Luckily it was with their car and they knew what they were doing.
Our destination is a campsite along Lake Mburo in a national park. Little does everyone know that once they pass the gates, they will encounter large numbers of zebra. The long road is instantly forgotten. Even more fun is the fact our campsite is home to five or six warthogs. We have to set up our tents amidst grazing and snorting warthogs, as well as the now familiar sound of snorting hippos in the lake.
There are a number of aspects to the Challenge, and team-building is one of them. Chimps, camping, hippos, remote villages and solar panels, and more camping is one heck of a way to bring people together. We have gotten to know and appreciate each other quite well. In a world where we often, even mostly, relate to each other virtually, it is great to have gotten to know each in person. Our clients, suppliers and internal teams work across the globe, and the openness the Challenge fosters is essential to our understanding of other cultures, organizations and ways of communicating. That understanding will serve us and our community well in getting projects done anywhere anytime.