Uganda & Rwanda Challenge: Day 4
Oct 24, 2014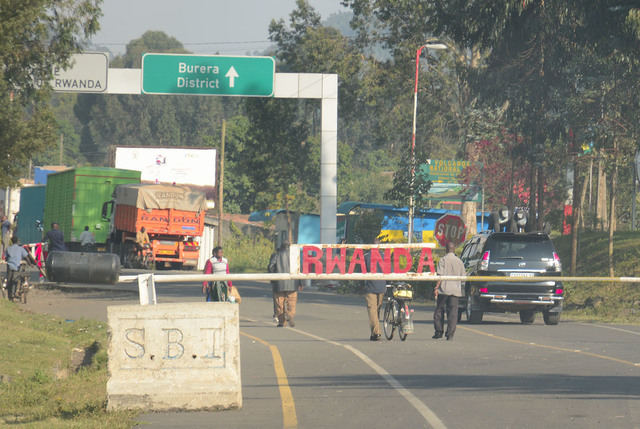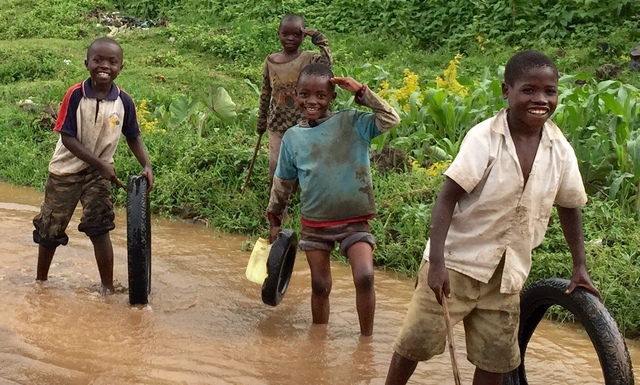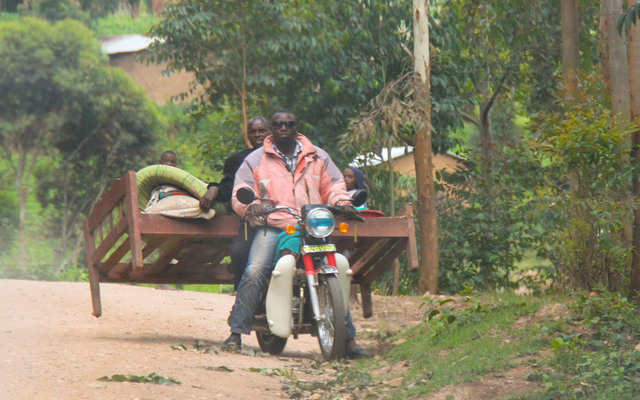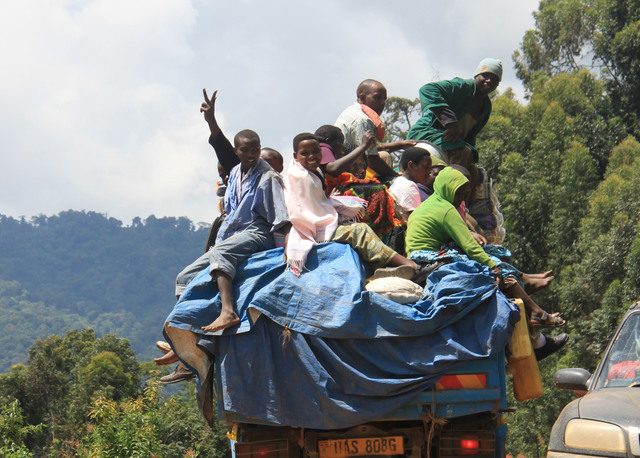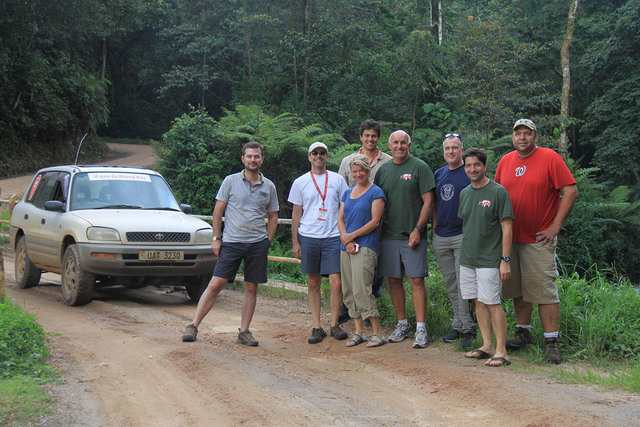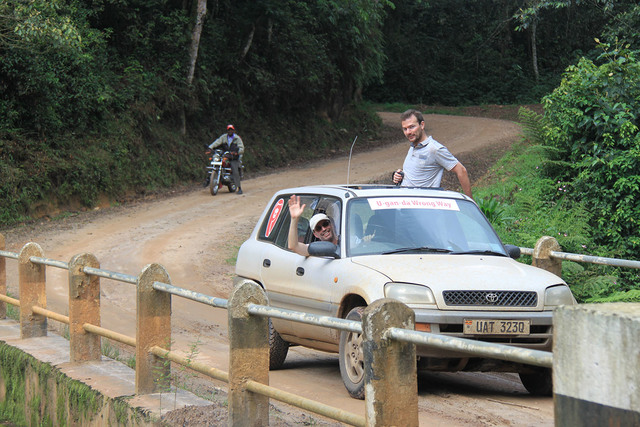 21 October 2014, Tuesday | Ishasha to Ruhengeri, Rwanda, approx 189 kilometers. 8 hours, including border crossing. Note border crossing is at Cyanika, Uganda.
A hippo bellowing near our tents just before dawn is our alarm clock. Nearby hippos responding to the call gets some of us to stir out of our sleep a bit more. The massive thunder clap seemingly overhead startles awake everyone else. The ensuing downpour has half the gang scrambling to pack up before they float away, and the other half hunkering down in their warm dry tent. The storm breaks after an hour, and we are able to pack up our wet gear and hit the road.
As we are to cross a fairly mountainous region with bad roads, we break up into groups of 3 to 4 cars. Our group takes ten hours to reach Ruhengeri in Rwanda, but are surprised by the number as the drive went by quickly. It was extraordinarily beautiful and varied.
For a good stretch of the road, we passed through Bwindi Impenetrable Forest, home of the gorilla. The forest is absolutely beautiful, and I know some of folks are making plans to come back some day to spend a day tracking gorillas.
As we break out of the forest, the same mountainous terrain is now covered by terraced farming covering entire hills and mountains. We are amazed as we watch locals perched at steep angles working the land. We are more amazed at the kids scrambling down sheer hills at ridiculous speeds to shout out "hellos" and "how are you" at us. We assume they will then effortlessly climb back up to where they were when we pass by. An effort that would likely leave us lying flat on the ground gasping for air.
We arrive at the Uganda / Rwanda border with little incident. There is a confusing trio of offices we must navigate in order to get through, but as we are the last set of cars to come through, they officials seem to have it down and know what we are about to say. We first have to go to the Uganda Police Office (a one desk hut), who look at our passports and fills something out. He gives each driver a piece of paper. We all then walk across the "highway" to the Uganda Customs Office, where each driver presents registration and insurance documents for the cars. The customs officer looks at the police piece of paper, and gives the driver another piece of paper. We then go back to the police station, present the customs documents and get a very small piece of paper with some handwriting on it. We then proceed to the border barrier. Once we hand over the very small piece of paper with handwriting on it, the barrier goes up, and we are through. Fifty meters ahead, we are asked to park our car in front of the Rwanda border barrier, leave the car there in "no-man's-land", and proceed forward on foot.
Our temperature is taken to ensure we do not have a fever before we can cross over into Rwanda. The driver, Sebastian in my case, then walks into the Rwanda Police Hut with the automobile documents, while the rest of us proceed to passport control and immigration. In a great effort of improved efficiency, we discover that Uganda emigration and Rwanda immigration are located side-by-side. I was wondering when we were going to get our exit stamp from Uganda. In any case, we fill out an exit card and an entry card. The process is relatively quick and painless. A few of our folks, looking like the Muzangas (lost and confused foreigners) that we are, are gently pushed aside by a local who figures they need to jump in front of us to avoid a long delay.
As we arrive at the hotel, we are greeted by Gregoire who has helped us organize the next day's solar project at the Kovani elementary school in the Janja district. We need to be in our cars at 8 am for the one hour drive to the school. We want to get started on the project by 9 am. Having started the day before dawn in a torrential downpour, followed by a long drive, has us pretty exhausted. Still, I am surprised when everyone retires early to get plenty of sleep for the following day's activity.
By the way, each day has us completed a number of tasks such as finding landmarks, getting photos together with locals, photos of wildlife or recovering from a misadventure. Not much of a surprise, Shaka Zulu is dead last and is followed by U-Gan-Da Wrong Way. Leading the Challenge is Team Help Help Me Rwanda followed by Fish Called Rwanda and Haraka.
It seems that James C and Jim C switched teams yesterday after they figured they had already spent 2 days in the other's car. This was due to the difference in arrival times of flights on day 1. In any case, seems Jim got the short end of the stick point-wise by being on Team U-Gan-Da. Whereas James has a shot at the title with Fish.