Uganda & Rwanda Challenge: Day 1
Oct 19, 2014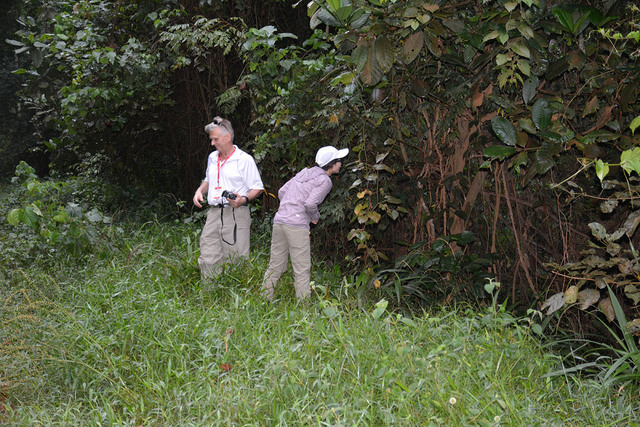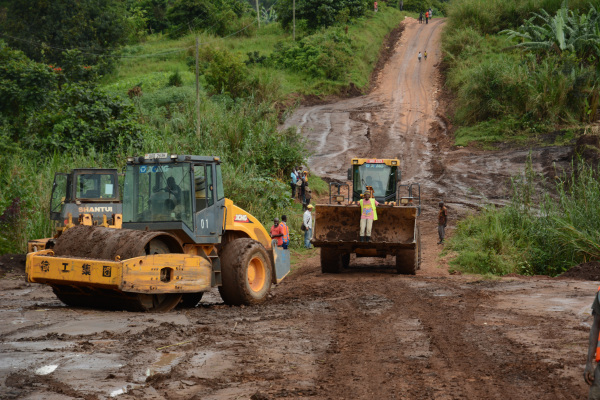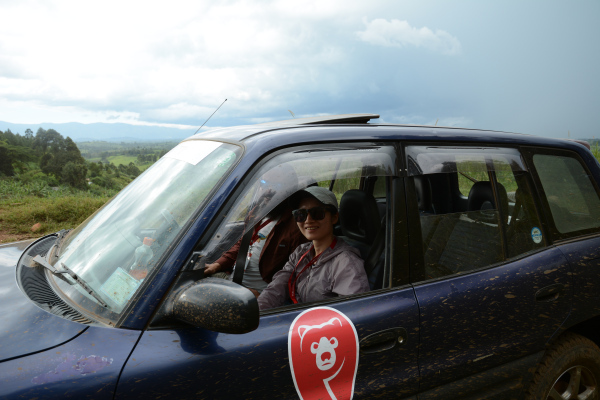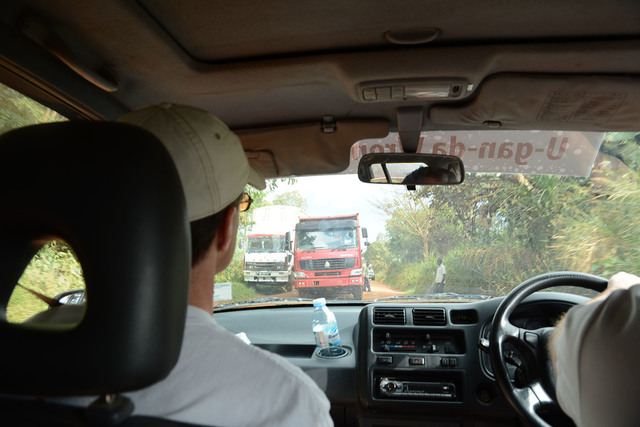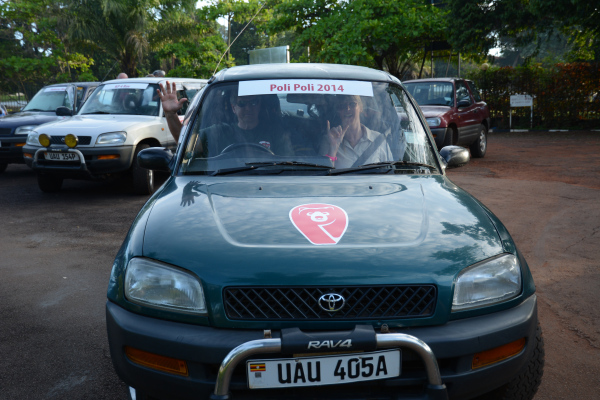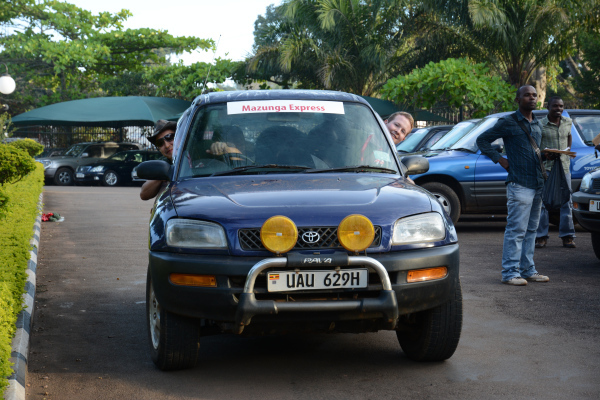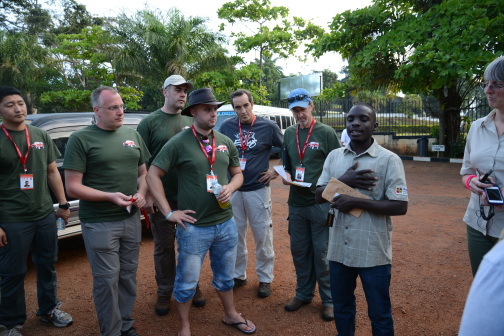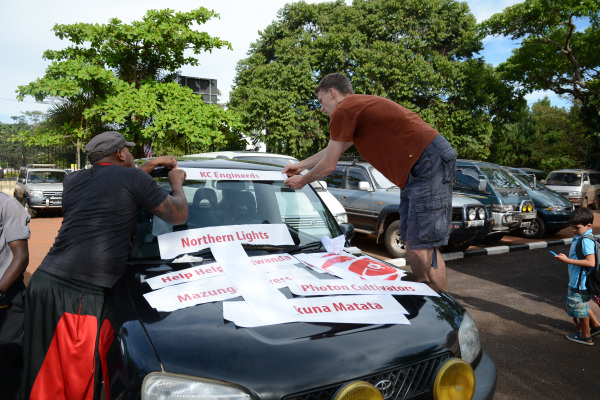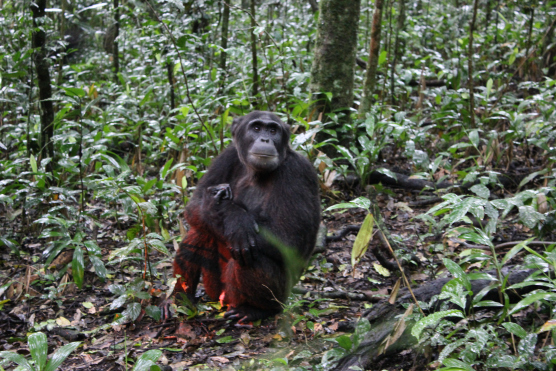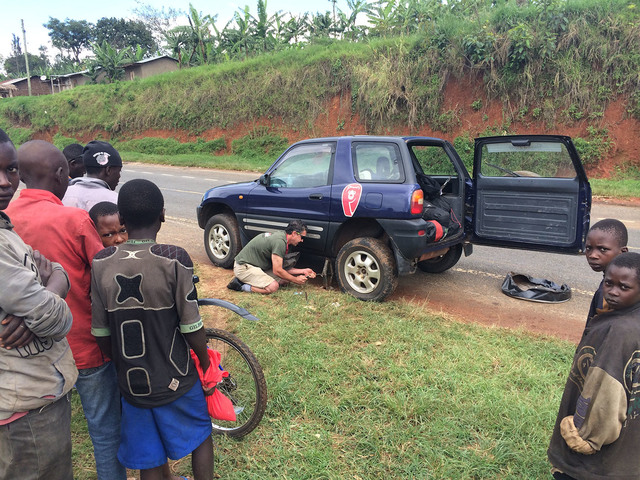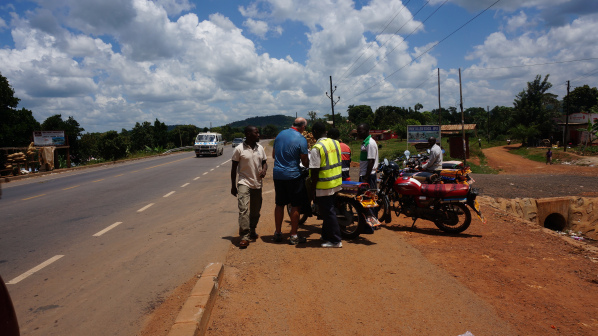 18 October 2014, Saturday | Entebbe to Kibale National Forest, approximately 356 kilometers. Up to 8 hours.
Teams Haraka, Poli Poli 2014, Photon Cultivators, KC Enginerds and Solar Bear are hustling through the underbrush of the rain forest in a downpour trying to keep up with their cheerful guides. It is 5:30 pm and everyone is out of breath at the so-far two-hour exertion in the darkening gloom. They were told earlier they had to start getting out of the rainforest by 6 pm as sunset is at 6:30. The gang is wet and tired, when one of the guides points upward. In the top of the trees, they can just make out a family of chimpanzees. It is nice, but as it is raining, the chimps are unlikely to come down. While Vivian is craning her neck looking upward, she hears "Viv, Viv" from the others. She looks down and just in front of her is chimp. Very quickly our group is surrounded by a dozen chimps who alternately stare at our gang and ignore them. The rain subsides and a mist starts to rise from the forest floor. The two groups, chimps and humans, begin to casually walk side-by-side through the mist. It is awesome.
By the time the hikers get back to the lodge at almost 7 pm, the other teams have arrived. As only a small number of people can go on a chimp hike at a time, we had to break up into two large groups. Group 1 left at 7:15 am and Group 2 at 10:15 am. The 2nd group was chosen to leave later as many of them had landed from the USA less than 12 hours before. Group 1 also included KP Rav4 and Shaka Zulu who got so lost en route, they missed the hike today. Funnily, this includes Shaka Zulu who were the first to leave the gates of the hotel in Entebbe at 7:15 that morning. This is even funnier as Eric was on the preview trip and should have had a better idea than anyone where he was going! Even worse, Eric and George arrived after everyone from Group 2 had already arrived.
To be fair, George and Eric did have a tire blowout, and had to spend some time replacing it, with much assistance and advice from local bystanders. Nonetheless, the fact they also ignored helpful local instructions as to where they were on a map and continued to go in the wrong direction toward a different national park had nothing to do with the blowout!
They only realized they were in the wrong place when they were completely out of the forest and looking at savannah. Eric knowing he was supposed to end up at the Primate Lodge in the midst of a rainforest said "oops." George explained to me later that regardless of being so lost, he would not have given up the experience as they spent so much time stopping and laughing with the locals and at each other. Kirsten and Paul, who were also lost for quite some time, agreed.
In Group 2, Teams A Fish Called Rwanda, Northern Lights, TOTO, U-Gan-Da Wrong Way, Hakuna Matata and Help Help Me Rwanda had more time as we are to go on our hike tomorrow. One of our participants had to drop out at the last minute, and I was left the odd man out…so I joined U-Gan-Da Wrong Way, and will hop from car to car for the rest of the week. Today was a long stretch of tarmac (paved road) to get to the western side of Uganda where we will spend most of our time before popping into Rwanda mid-week. it being a Saturday the traffic was not too bad from Entebbe to Kampala, and then opened up completely from Kampala to Kibale National Forest.
Help Help Me Rwanda with Guy and Martha were the only team to get more lost than others from Group 2…mostly because Guy refused to believe the locals, who correctly pointed out his actual location on the map. He laughed at himself as one of the points of this exercise it to work with locals to get help and find our way without GPS. Still, they only arrived 45 minutes after the rest of us, and got here before Shaka Zulu from Group 1.
Team Toto had the greatest misadventure of the day when they accidentally tapped the rear fender of a motorcycle and sent it skidding. The two passengers were unhurt, but Drew and Echo were quite shaken. As they were negotiating with the bikers, Northern Lights was driving by and noticed a crowd gathering around. Amanda and James stopped to help. Lots of calls with our chase vehicle mechanics, some cash and a ride to the hospital for one of the bikers (he was unhurt, but Drew and Echo were being extra cautious), and everyone was back on their way.
Their mood was lightened as they caught up with us, encountered some baboons and saw that we were only 30 minutes from the end of a log 7 hour drive. I had to laugh as we pulled over to see Andre and Joseph walking through some brush to peer into the rain forest looking for what might have been a white colobus monkey they had seen. I was laughing as we had just seen a bunch of baboons and I could only think of the frantic hustle back to the car in case one showed up. In any case, Jim, Ed, Echo, Drew and I joined them to no avail. No white colobus monkey today.
We have taken over the small Primate Lodge in Kibale National Forest, and the staff have been really nice. One of the cooks started a small group of dancers with local folks. Taking the lead from a very energetic troupe leader, James, Sebastian and Eric got into it and kept pace with the very fast-moving dancers. So much so and for so long, the entire hotel staff came out to watch and laugh.