The Highest of Highs and the Lowest of Lows: Day 7
By George Gemmill, Oct 25, 2018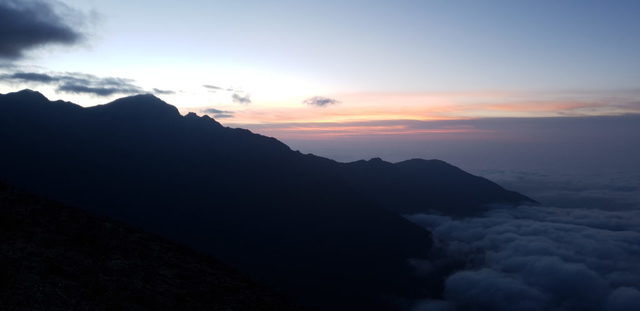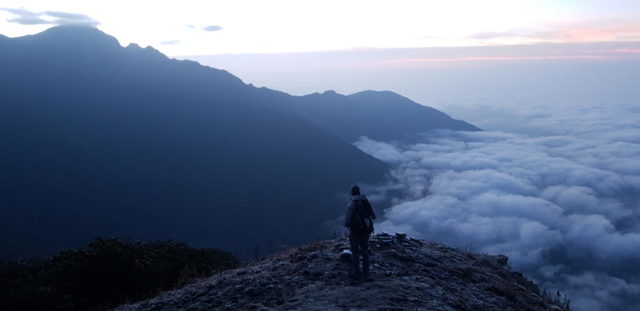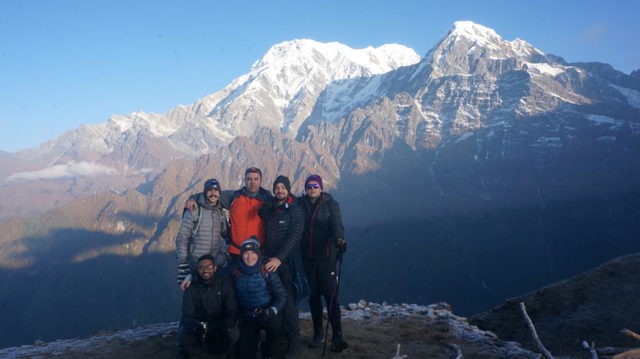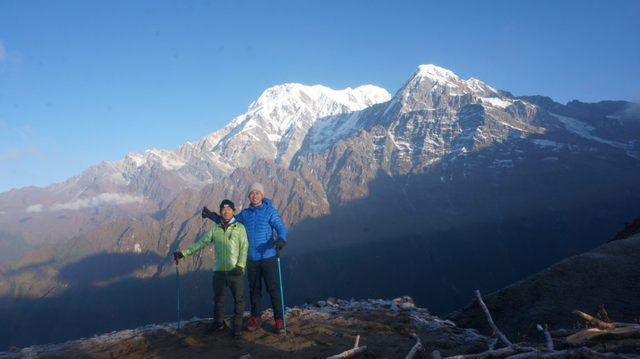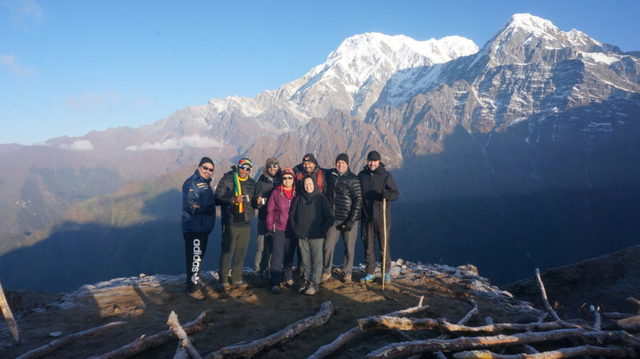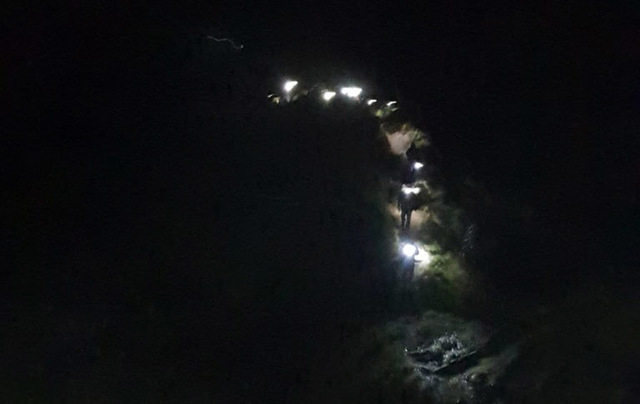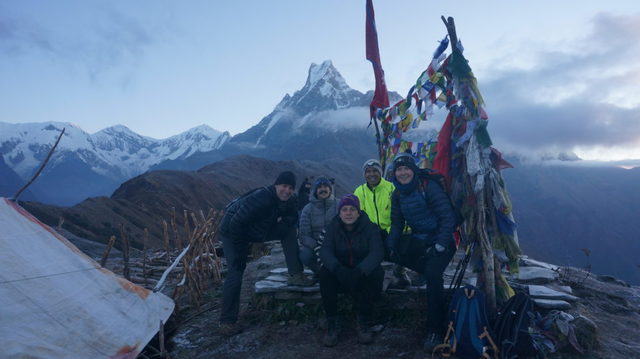 12 October 2018 | Day 7 | Mardi Himal Trek: High Camp to Base Camp Viewpoint
We reached the climax of this trip today for a different array of reasons.
At 4 am we all surfaced from the High Camp dorms very cold but nonetheless determined to reach the viewpoint on the route which was just before Base Camp of Mardi Himal. Unfortunately, Nasfa was feeling unwell and elected to remain at High Camp with some of the others. We also had a couple of people turn back as this proved to be a very tough climb. It was more like rock climbing than hiking, but it was a relief to finally reach the top of the viewpoint of this trek unscathed.
What was even more impressive was that everyone who completed the hike made it to the top prior to sunrise. The first group to make it consisted of Fortune, Matt, Skeber and I. In truth, we did not think we would make it before the sunrise, so when everyone else did it was very satisfying.
Many photos were taken, congratulations were in order, and it seemed like the perfect place to conclude our trek. Prior to this we had been talking about hiking to Base Camp which was not much further up the mountain, but finally decided not to. We were 13000 feet up and even the nearby planes and helicopters were not much further above us. It was such a positive experience.
After three days of hiking upwards on the Mardi Himal trek, it was finally time to make our descent. Initially we found this easy going but soon fatigue set in. We stopped at Low Camp to enjoy some noodles and from there we agreed to try and tackle as much of the descent as we could. This is where our first real setbacks began. This was most definitely the toughest part of the hike, and sadly we had no way of knowing this beforehand. There was only one route we could take, and we were on it. If you also factor in the 4am wake up, the fact that we were about to climb down just shy of 2000m in elevation, and very tough, rocky terrain, then its clear this was always going to be a challenge.
We had to split groups. Those at the front made it down to Ghandruk, but on the way we received a call that Eddie had fallen and unfortunately showed signs of a broken arm. Gunga and the Beyul team did an amazing job here and quickly arranged for a Sherpa to accompany Gunga back up the mountain to get to Eddie. This enabled the first group to make it to the hotel at around nightfall, reuniting with Eric, Nasfa, Paula, Sammy and Shad who had hiked down earlier in the day. The other group agreed that Drew and Terry would stay with Eddie, Bibek, and Gunga whilst the others would head back. This had to happen since walking down this terrain in the dark was even more dangerous and by this point heavy rain had set in making everything even more treacherous.
Guy, Beree, Mena, Sherwin and others from the later group arrived, looking very fed up and waterlogged. The news from the mountain was that Eddie was at least another hour and a half away. Due to the increasingly worse conditions and the speed at which Eddie could move because of the broken limb, it was 9pm by the time Eddie made it to the hotel. Given the situation, it was really good to see Eddie's spirits up. He had not given in. Drew and Terry confirmed that in addition to the rainy conditions they also had to contend with a hoard of leeches. Everyone ate first, before Fredy kindly accompanied Eddie to the hospital – a 3-hour drive over rough terrain back into Pokhara.
The news wasn't good. Unfortunately Eddie had broken his wrist and would be requiring surgery. I am told Eddie made the decision to return to the US for this immediately, with Fredy accompanying him.
It was disappointing to see Eddie leave early. For me personally, Eddie was one of the first people I had ever met at Northland. As with so many of us newcomers to the industry, Eddie had the unfortunate luck of being given the responsibility of training me in the field. We always got along well, and this was a reunion 5 years in the making. It was great to see him again and obviously we are all hoping for a speedy recovery for him. Fredy is also a big loss for us as he returned prematurely. I had not met Fredy before this trip, but he is a very nice guy and I am told he did not hesitate when the decision was made to fly Eddie home early. Safe travels to both.
What had started out as an extremely brilliant day, had unfortunately taken a bad turn. Great credit needs to be given to those involved: Drew, Terry, Gunga, Bibek and all the Beyul team for helping try to get through the situation.