The Gang's Back Together Again: Gosaikunda 2018 Day 2
By George Gemmill, Oct 06, 2018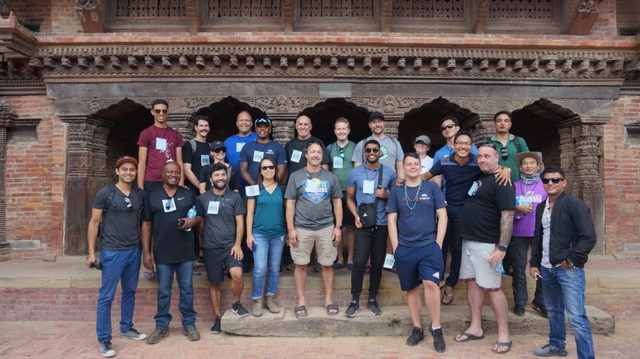 A day of adventure before the pre-challenge briefing.
A nice sleep in this morning for most, except Dave Skeber and Terry who stated that after their 10+ hour slumber they were fresh and up doing yoga.
Jamie, Matt, Nasfa, Rahat and I met them later on for breakfast and were soon joined by the east coast arrivals: Sherwin and Paula. Catch ups ensued before we packed to make our way to the Marriott on the other side of the city center.
This was our first experience of Nepali driving, which taught us that millimeters are no issue, and that passing other cars in largely pedestrian areas of the city is part of the status quo.
We made it in very quick time and surprisingly with not a scratch on the bus. Further arrivals came in the form of Jerry and Angel from APAC, and then finally the US west coast team arrived.
Once we had Dave Fortune, Drew, Eddie, Eric, Freddy, Guy, Mena, Mohammad, Sammy, Shad with us it transpired that while in route, they had to contend with both Mena accidently leaving her passport on the plane and Freddy being, again accidently, caught with a 22-caliber bullet in his bag while passing through the security control in China!
Mena's issue was swiftly rectified, although I imagine that Freddy's was less straight forward. Apparently while passing through security for the flight connection, the Chinese authorities stopped Freddy, who was bemused as to why. As contents were emptied from his bag he was shocked to see a 22-caliber bullet drop out his bag, which he has guessed must have been in there from his Air Force days 30 years earlier! Eventually US/China relations were restored, and he was released to join the others and head into Kathmandu.
We all headed to another local eatery for lunch and well needed catching up. For many, it had been reunions years in the making.
Following this, we all went out in Kathmandu to have some free time. Many took to the shops to barter, with Mo in particular providing many with a master class in how to haggle. Others went for massages, and others attended local bars or the hotel to catch up further and enjoy one another's company.
Once back at the hotel we assembled for the pre-challenge briefing. Guy ran through the rules, regulations and itinerary. With that complete, we headed over the road for dinner, before winding down. Nothing like a 6am start to enforce an early night. Tomorrow we head to the school in Palungtar to help with the effort in installing solar panels to the local school.