Northland Challenge 2014: Uganda & Rwanda
Feb 04, 2014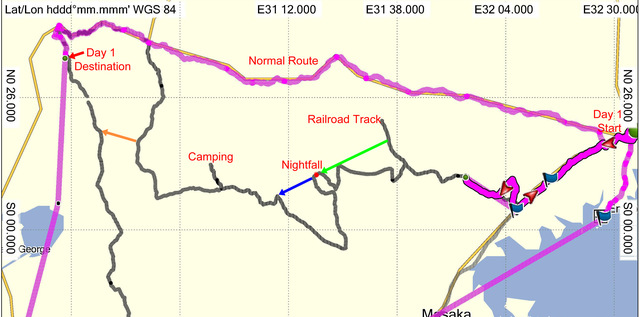 Thriving on the Unknown
The Northland Challenge is about breaking down stereotypes, overcoming our fears of the unknown, and getting out of our shells to work with locals to find our way from one end of their country to the other without the use of technology.
We have raced across india in Tuk Tuks, the Caucasus in 4x4s, and soon across Uganda and Rwanda. The Challenges have affected all of the participants in wonderfully positive ways, allowing us to thrive with the fantastic opportunities available to us. And now, we are challenging ourselves to go a step further…to leave behind for the people we encounter an opportunity to accelerate their economic development and to thrive as individuals and as a community.
The Cause
Extraordinary work everyone! We did it. We raised over $52,000 for this fantastic cause. Stay tuned for the Northland Challenge 2016!
As part of our challenge, we are raising funds to provide solar panels for 100 homes, a school with 1,108 students, and a transitional home for street kids. The Fundraising site is: http://www.crowdrise.com/FundRwanda
To date, our participants have raised $39,438 through Crowdrise + another $12,600 directly through Firelight and Northland!
We will have the good fortune to help install a number of the solar panel arrays with the local installation company on our trip. However, we are primarily interested in enabling the local community to create a self-sustaining business model that will eventually bring electricity to the whole community. Details of how the funds will be distributed:
The first $10,000 raised will be provide solar power kits to 50 vulnerable families. We have already achieved this goal!!! These kits will bring electricity to a community that is literally off the grid, and will enable kids to read and study at night, families to charge mobile phones as well as listen to the radio. The kits will replace kerosene lamps that cause pollution in the enclosed area of the home, occasional burns, fires, headaches, eye irritation and respiratory issues. The families will pay a loan with a monthly fee equivalent to their current monthly expense on kerosene. These payments will then be used to fund additional solar power installations for even more families.

The subsequent $16,000 raised will be provide for more robust commercial grade solar power arrays to power a school that accommodates 1,108 kids. The school, Groupe Scolaire de Kivune, will not only power computers, printers, lighting and photocopiers during the day, but also provide lighting for kids in the immediate vicinity to read and study by at night.

The subsequent $15,000 will go to Les Enfants de Dieu, a transitional housing center for homeless boys who are taken off the streets of Kigali, the capital of Rwanda. The center takes a very holistic approach to the health, shelter and education of the boys. The boys are not only integrated back into society, but are taught responsibility for the management and operation of the entire center. With a budget of only $180,000 per year, Les Enfants de Dieu houses, clothes and feeds almost 100 children.

With our objective of providing solar power to at least 100 homes, the subsequent $10,000 will go to funding solar power kits for another 50 homes, with the same process as mentioned above.
Preparations
I am often asked what it takes to get ready for and participate in this sort of "Amazing Race" type of travel. There are passport, visa, driver license, vaccinations, cultural awareness and attire, and other things to consider. In the Caucasus, we entered in the Nagorno-Karabakh Republic, in India there were wild dogs to consider, and for East Africa, I am of course asked about Ebola.
Obviously disputed states, wild dogs and exotic viruses do not slow our need to explore other cultures and people. After all, millions of people actually live in all these places. Still, we figure a bit of preparation, planning and precaution is warranted.
The Valid Passport: Check and double-check. If your passport expires within 6 months after your expected departure from Uganda, you will not be able to get a visa. The typical waiting till the last minute to get a visa does not work when traveling to many countries. This particular pitfall is very hard to overcome at the last minute. For our participants, that means we would all need a passport that expires after the 30th of April 2015!
Vaccinations: The dreaded topic. Some countries will not allow entry without proof of certain vaccinations. Other vaccinations are recommended but not required. Everyone should double-check with their doctor or travel clinic.
All routine vaccinations
Hepatitis A
Hepatitis B
Typhoid
Yellow Fever (Required to obtain Ugandan visa for Americans)
Meningococcal (meningitis)
Malaria
Rabies
Again, your travel clinic adviser might be okay with you not getting one of these, such as Rabies. Please check with them to confirm what makes the most sense for you.
The Visa: Requirements differ depending on the travelers nationality. A visa is needed in advance from the Uganda Embassy to travel to Uganda. And as we will be traveling through Uganda, into Rwanda, and back into Uganda, we will need multi-entry/exit visas. Happily, to enter Rwanda, we only need to fill out some paperwork at the border. Specific requirements by nationality for Uganda are available online from the Ugandan Embassy websites