Continuing to Take on Challenges: Once a Northlander, Always a Northlander
Nov 02, 2018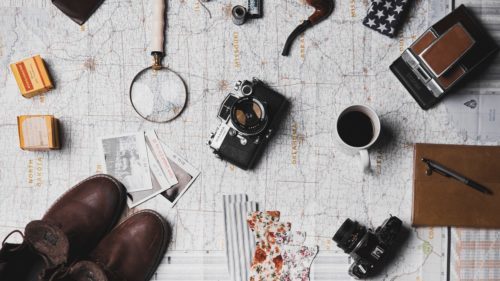 For those of you who had the pleasure of knowing or working with former Project Manager, Mike Vinokurov, you may or may not be aware of his reasons for leaving Northland. Mike left to pursue a year-long, unplanned, uncharted trip across the world- taking on the ultimate challenge. While the rest of us sit here stewing in our jealousy, we caught up with Mike before his trip to ask him about it!
What inspired you to take this trip?
I was really into history, geography and foreign cultures as a kid, and so this has been a distant fantasy for a while. I did a month-long trip through Europe 9 years ago, and that was really the last time that I traveled. Finally, I just called myself out on not starting it, like why am I not just doing it? What's stopping me? It's been scary pushing go on this trip and I'm definitely feeling a mix of anxiety and uncertainty, but also excitement. This trip is something I need to do. And the time is now.
How has Northland helped you to start this adventure?
First of all, I'm grateful to my managers Akiko and Bill for taking a chance on me joining the team. Northland has made it possible for me to be in the best position to start on this trip. I have no debts, no leases, no car payments – not even a goldfish! Northland pushes a culture of focusing on future growth and development, like with NCCs (Northland Career Challenge), and having that kind of mentality in the back of my head while working at Northland contributed to me thinking about my future and my own personal growth. This trip is integral to that.
Do you have any set plans?
Seeing as I started planning 3 weeks ago, not really! I am starting out by staying with a friend in Armenia for their 60th birthday party, then after that who knows? I'm thinking maybe I'll move through central Asia and Turkey, then maybe onto the rest of Asia and southeast Asia, like Thailand or Indonesia, but none of it is set. I might be traveling for a year, or maybe 6 months. I might end up a goat herder in Greece. We'll see.
What are your goals for the trip?
I'm hoping to recalibrate my life. Working for Facebook through Northland has been very intense, and things in my personal life also occupy my capacity to make decisions about my life. I feel like once I start on this trip, I'll finally be able to exhale and just do that for like 3 days. I'm closing the door on this chapter of my life. I have been pushed around by circumstance up until this point in my life, and especially by the pace of the Bay Area. I'm hoping to refresh and finally live in the moment.
But this is still going to be a challenge for me. I'm not staying in resorts, living it up on a beach. I want to push myself. I want to get to know myself more, like if I'm faced with an uncomfortable situation, I want to see how I will handle it. I want to be able to make decisions for myself, completely uncontaminated by other things in my life.
What are your future goals past this trip?
TBD. This trip is really about learning to not set expectations. A lot of the time we all have this picture in our heads of what the future will look like, and we end up trying to conform to that picture. I want to keep it open ended. I don't want outside things contaminating life's possibilities, or different opportunities. I'm going to see the world, and maybe I'll make a decision about where I belong for the rest of my life. But that decision will be made being completely unbound by things other than who I am and what I want.
How can we follow your travels?
I don't know yet! I am posting some limited photos and updates on Facebook, and will be exploring some options about running an independent blog or website to detail my travels in greater depth. I'm of course keeping a personal journal as well to help record my experiences as they come. To tell the truth though, I'm not focused on making my journey public for the time being. It may be the case that I come back to my journal entries, photos, and audio recordings some time in the future to see what comes forward about this trip that is worth sharing.