Caucasus Challenge: Epilogues
Sep 26, 2012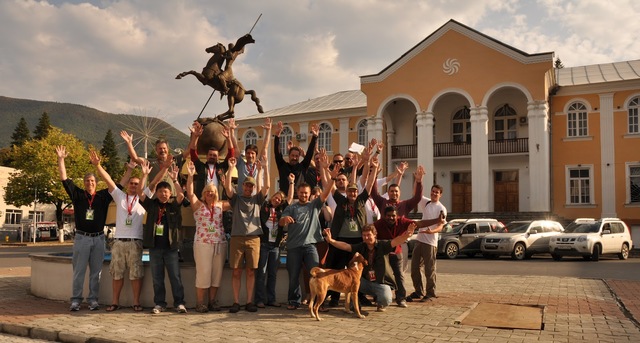 Pierre's final thoughts from the Caucasus Challenge.
*Epilogue 1: *
Throughout our trip in Georgia we noticed the police all had brand new cars, smart looking uniforms and fantastically designed modern police stations. At some point or other, we all had a chance to chat with the police and universally acknowledged how professional they seemed.
Also, it seemed the general population was quite patriotic waving flags and shouting such things as "Georgia is great!" It was very apparent to all of us that elections were in the offing as posters and political demonstrations were everywhere. Upon my return to Washington DC, I read the following article: http://www.washingtonpost.com/national/georgian-police-arrest-opposition-linked-suspects-as-protests-continue/2012/09/24/cd717816-0675-11e2-9eea-333857f6a7bd_story.html
*Epilogue 2: *
It's 4:30 am and I am at a cafe having a Turkish coffee while awaiting my flight. A security agent walks up and asks, "are you Mr. Trapanese? Didn't you hear us trying to page you?" He escorts me back out through security, and through several more layers of security to the baggage handling area. I see my suitcase open with the canon shell I had traded for in Dadivank sitting next to it. Expecting this, I was prepared for an explanation as I did not want to give up on this souvenir that all the Challengers had signed. I was surprised to hear the security officer congratulate me on winning the race (I didn't, but had some medals in my suitcase). He apologized for unpacking my suitcase, and wanted me to repack it to make sure nothing was missing. He asked for my understanding as he had seen through the x-ray machine a very large metal object resembling an explosive casing. I had fun showing him our route and talking to him about what a great time we all had.
*Epilogue 3: *
Having survived being Eric's teammate, the wild's of Armenia and the craziness of Georgia, Mark returns to Heathrow to find his car has a flat!