Boston Roundtable Wrap Up: Crisis Management and Communication
Mar 22, 2018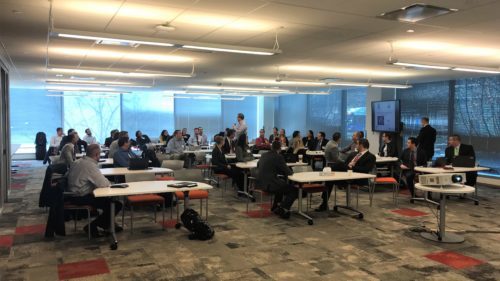 Two weeks ago, the second installment of our GSOC Roundtable series (held in partnership with the Security Executive Council) was hosted in Boston by Biogen. Despite the freezing weather outside, the conversations inside were heating up with discussions focusing on crisis communication and emergency management.
Kayla Prettitore, director of operations for the GSOC at Northland Controls says, "Information sharing is at its best during these events. There is so much that we can all learn from each other no matter what company you support. This has become more apparent as the responsibilities of a Security Operations Center grow into areas like crisis management and threat intelligence."
It was no surprise that these topics were at the forefront of the discussion given the recent increase in terrorist attacks not just in the United States, but globally as well. These events, particularly those that have occurred nearby to corporate offices, have changed internal processes, forcing them to be optimized to be more expedient and more accurate on an ongoing basis. Through these roundtable discussions, other SOCs can learn from real life cases of emergency response and can now improve their security posturing before an event occurs.
This roundtable gave attendees the opportunity to discuss specifics such as how and when SOCs use mass communication tools, what should or shouldn't be said and the various techniques used to get employees and customers to subscribe to communications platforms. These sorts of questions facilitate networking and the sharing of ideas with other SOCs. "The biggest takeaway was that the focus of a SOC is constantly evolving. There were a lot of interesting cases that traditionally were not a function of the Security Operations Center. Companies are starting to bring in supply chain management and IT infrastructure security into their SOCs. Having these synergies increases a company's ROI for their SOC" says Prettitore. The roundtable ended with a tour of Biogen's GSOC and a lively, open forum-style lunch. Thank you to all who participated in the discussions and presentations!