American Spirit Day 3.2 – Las Vegas
Oct 06, 2016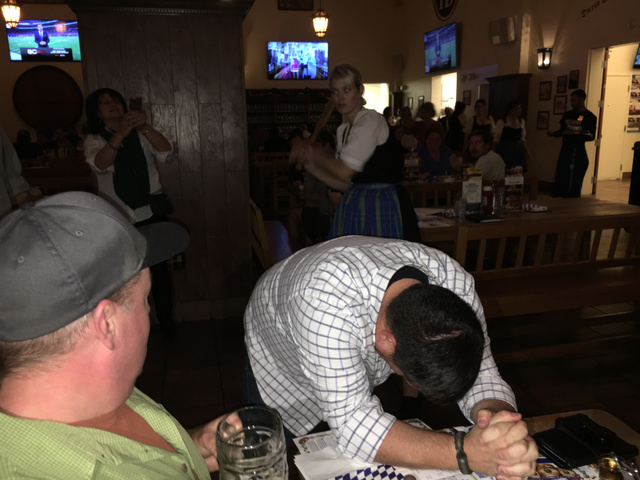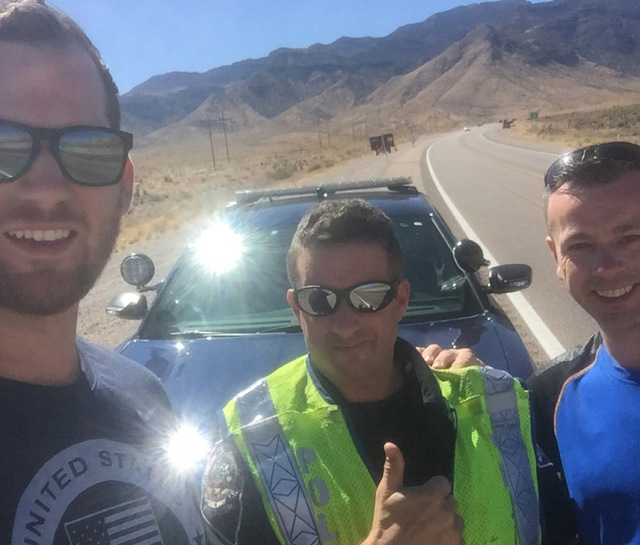 October 3, 2016
Amazingly, our motley gang powers through the Bryce Canyon Hike in 3 hours. Including the UK boys running an additional 2 miles and 2000 feet of elevation to get to a lookout point they saw from the trail.
With time on our side, we head to our next destination of Las Vegas via Zion National Park.
I will go back and update the teams' efforts at gaining points for the Challenge in a few days from now, but one such effort is to get a photo with a police officer. Leo and I did see an Indian Police car, but were not able to stop him in time. Jonathan and Christine went looking for a police station, but it was empty. However, they spotted a departing officer, and followed him…all the way to his house…but decided to stand down when the officer walked up to his house and gave his wife a kiss…they didn't want to startle the bejesus out of him. Brendan and Andy did succeed in getting a photo with a police officer.
I had arranged Las Vegas with great trepidation. However, given our hike and driving distance today, and long road tomorrow, it was the only way-point that made sense. As we approach Las Vegas around 6 pm toward the end of this tiring day, I sensed the people in the other cars perking up and smiling. No, I could not see them, but after spending time bonding with the group and getting to understand the energy of the land better, I could sense it. Team-building, remember. I again became nervous at the choice of this quintessential, only-in-America monument as a layover.
We settled in to the hotel quickly, and headed to the Hofbrau Haus for dinner. Las Vegas looks to recreate entire cities, but does not manage to recreate the cultural vibe of Paris, New York, Rome or Venice. However, the Hofbrau Haus, a German beer garden, has managed to import a sense of Munich. And it being Octoberfest…why not?
Dinner started off well enough. The waitress mocked my half liter while lugging 6 full liters in one hand. The band was good, but insisted on playing American folk, country and rock songs I imagine countless of Americans have requested in the past. Once we asked for some German songs, the mood improved dramatically.
Entering the Hofbrau Haus, we noticed the waitress serving someone a shot. The person then proceeded to be smacked with a large wooden paddle by said waitress. We were a bit taken aback. I guess anyone stupid enough to order a shot of something in a beer garden deserves it. Steve, ever up for a challenge, ordered Chris a shot, and himself one as well. The young German couple sitting next to us were besides themselves with laughter at the absurdity.
Needless to say, others couldn't let Steve have the upper hand. Mind you, there were not points being given for this challenge. Also, mind you, up until now, I had been feeling bad for Steve. So far on this trip, he had been stung by a yellow jacket wasp, bitten by a puppy (yes a puppy) in the privates (don't ask), and kicked by a horse (we thought he broke a bone.) It was at dinner that I realized that he might just somehow track disaster wherever he goes much like pigpen tracks dust. Once the first smack of the paddle resounded around the beer garden, it was not long before the whole gang had their turn. And as I keep reminding myself, this is a team-building, cultural awareness exercise, I couldn't be the odd man out…I should have considered my options better … It hurts!
A few of the more mature folks on our wayward team of cowboys know Las Vegas well enough to call it a night right after dinner. However, the newbies and some of the old hands, had to see what trouble they could rustle up…they headed off to go zip lining in the newly refurbished area of downtown Las Vegas, the Fremont District. I went to bed.